2018: a year of growth
making Jesus known
Easter
Distribute the Easter HOPE Magazine door to door and give Who Do You Say I Am  
Thy Kingdom Come
Join the global wave of prayer 10th – 20th May 2018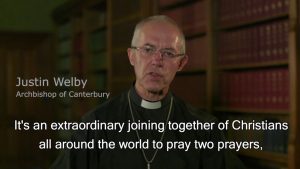 Click here or on the image to see Video
Remembrance
As 2018 marks the 100th anniversary of the ending of the First World War, there will be a national focus on this significant anniversary. On 4th August 1918 King George V called a national day of prayer; 99 days passed and on the 100th day the war ended. In 2018 we will be marking the 99 days before Armistice Day on Sunday 11th November 2018, praying for peace in the world but also peace in the hearts of men and women, that they might be reconciled to God through Jesus. HOPE and HOPE Revolution are working with partners across the denominations, younger and older people together, to build momentum through these 99 days.
As communities come together to mark Armistice Day on Remembrance Sunday 11th November 2018, we will also be marking the centenary of the end of the First World War. HOPE will provide churches with a pocket-sized give-away gift book to use at Remembrance Day services. It will include the wording for an act of remembrance, plus the traditional exhortation as well as new material to help people to engage with God in the Two Minute Silence.
After the traditional Remembrance services, many cathedrals and churches are planning to hold Peace Parties, reflecting the 1918 celebrations to mark the end of the First World War.
https://www.hopetogether.org.uk/Groups/256563/Remembrance.aspx