John Quinlan Architect & Artist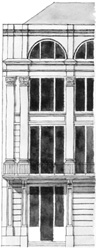 Hi,
My name is John. I have over 30 years of experience in architecture (anquinlan-img-1sd have been a Christian even longer) with a good track record on church and historic buildings. Part of my time is based at Freshwater and I want to increase it.
It is my hope that Islanders will come to consider me as an architect they can call on for church and historic building work together with accessibility improvements and domestic work.
Please have a look at my website http://johnquinlanarchitect.com
You can call me on 01502 713670 or 07972 520729 Alternatively email me at jaquinlan@btinternet.com and I'll get back to you.