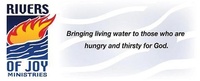 Rivers of Joy ministries is a dynamic evangelical/pentecostal international ministry based on the Isle of Wight with branches at present in 20 countries of the world and nearly 200 churches currently in our network.
Our vision is to save the lost and plant new churches, unite together under our apostolic cover those independent churches that are ready to stand together in unity, train and equip both the members and the leaders of churches and bring revival to the Church.
For those of you in business
Apart from my spiritual role here on the Isle of Wight and internationally, as some of you will know, I also run my own business as a business and life coach. It's in that capacity that two years ago I started a business network group, called Vectis business link,  that meets every other Tuesday morning for breakfast at the Ryde Castle Hotel on Ryde Esplanade, Ryde from 7am till 9ish. This is a great opportunity to promote your business to other businesses from across the island.
We are now opening our group to any other still unrepresented businesses/trades that wishes to join us or at least visit us and as a guest enjoy a FREE breakfast.
If you wish to attend or require more information please get in touch via email alex.tana@btinternet.com or give me a call on 563144.
Thanks and God bless.
Alex Tana
Website: http://www.riversofjoy.org
Email: riversofjoy@btinternet.com