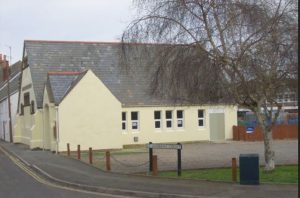 St Andrews Christian Centre (previously know as the St Marys Mission Hall) has benefited from a makeover by the Community Church (I.W.) since it was the subject of a community asset transfer from the Isle of Wight Council. It had been allowed to fall into disrepair with rotten floor boards, falling plaster and peeling paintwork. This coupled with poor heating made the place unattractive for hirers and the Community Church who have held their meetings there.
The Community Church have invested a large sum of money in refurbishing the building. The hall has been redecorated internally, flooring repaired and new heaters fitted. New tables and chairs have been purchased and the hall can now seat 100 people. More recently the kitchen and toilets have been modernised and the installation of new windows and external paintwork has been completed.
The Hall is available for hire at very reasonable rates.
For "terms and conditions" and to book St Andrews Christian Centre contact Mrs Valerie Rawe      Telephone: 01983 280067